Discover more from Haz Lo Que Debes
Following your intuition, finding your vortex, and exploring your personal wave function.
The Glass is Already Broken
Not to be confused with the glass being half-full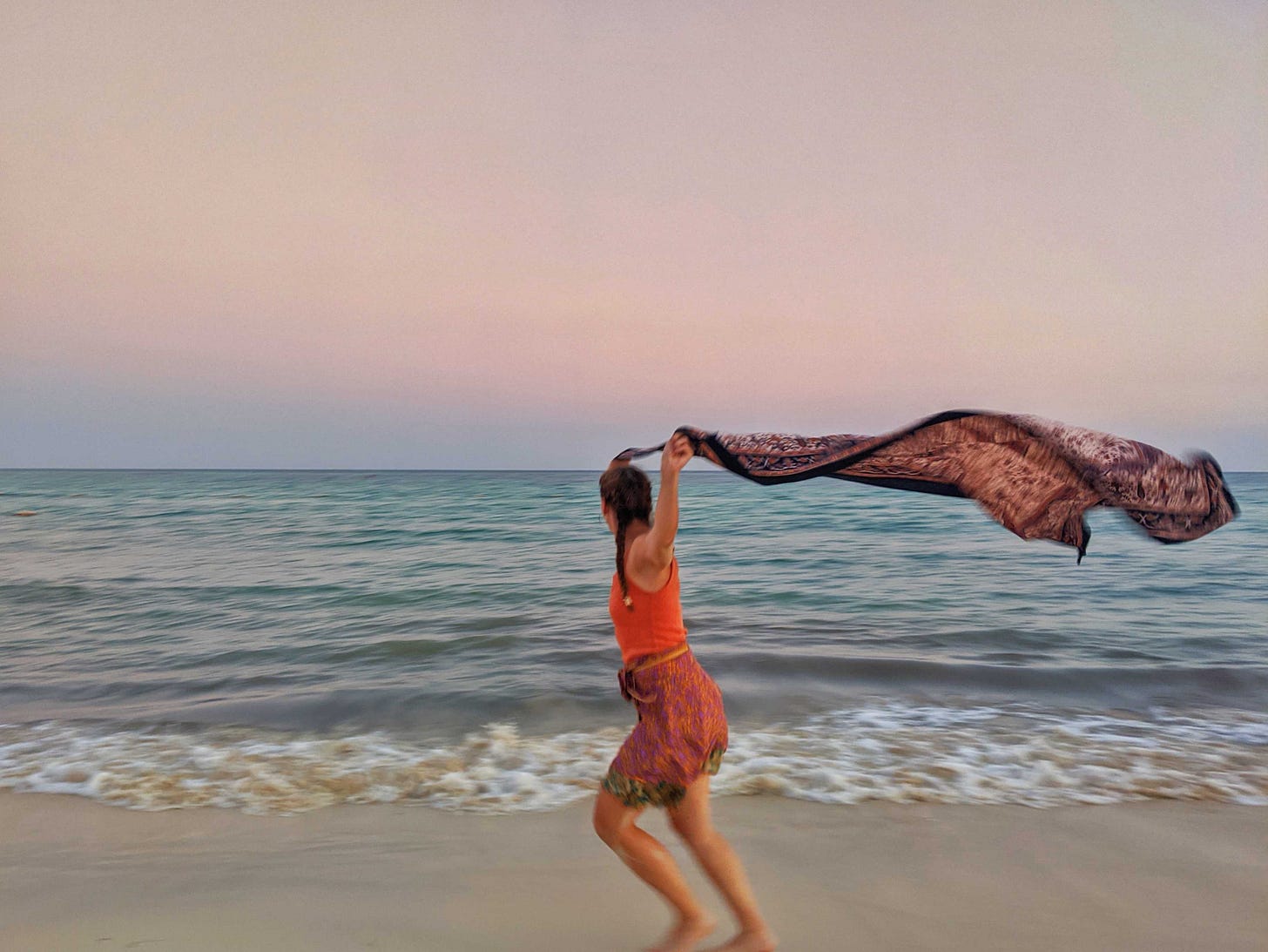 "You see this goblet? For me, this glass is already broken. I enjoy it; I drink out of it. It holds my water admirably, sometimes even reflecting the sun in beautiful patterns. If I should tap it, it has a lovely ring to it. But when I put this glass on a shelf and the wind knocks it over or my elbow brushes it off the table and it falls to the ground and shatters, I say, 'Of course.' But when I understand that this glass is already broken, every moment with it is precious." — Achaan Chaa
Tonight, about a dozen of us from our WiFi Tribe chapter had a picnic on the beach at sunset. We laid out towels, ate all sorts of exotic flavours of chips, and sang along to the most eclectic mix of songs — everything from Aqua's "Barbie Girl" to Queen's "Bohemian Rhapsody."
There was a moment where I was laying there and was just struck with how perfect it all was — how magical of an experience — and how fortunate I was to be experiencing it. Not everybody can work and travel simultaneously like we do, and even then, for those who can, not everybody finds a tribe like this that they can belong to. And in that moment, I realized just how unique and precious of a phenomenon we are co-creating this month.
Tomorrow marks the end of the first week of our February 2020 Playa del Carmen WiFi Tribe chapter. One down, three to go. Just a few days ago, I was blown away that we'd only known each other for 100 hours. And now I can't believe that we're 25% of the way through our time together. It won't be much longer before this group will disband and go our separate ways. Given the relatively small size of the community, it's likely many of us will see each other again in other locations. But never again exactly like this.
All of these thoughts and emotions struck me all at once, and as you can imagine, it was a bit overwhelming. We all know the bitter-sweet feeling when something ends — one of those "you don't know what you've got till it's gone" sort of situations. But how often do we connect the dots at the beginning? Usually I'm so excited about the start that I don't really internalize that the ending is a go-with — a necessary part of the balance. Nor do I do a great job of realizing and enjoying the in-between until the end is in sight.
The above story of the glass comes to mind whenever I feel like I want to hold on to the present. Life is impermanent, and resisting that fact only leads to suffering. Times change. People change. Accepting that something or someone won't be around forever helps me disfrutar* my time with them all the more. And sometimes I need reminders like tonight to help keep things in perspective so that I can make the most of the time I have remaining.
Con mucho amor ❤️

* P.S. disfrutar is one of my favourite Spanish words because it has so much depth and nuance: "to enjoy, bask, delight, or take pleasure in." How lovely is that?