Discover more from Haz Lo Que Debes
Following your intuition, finding your vortex, and exploring your personal wave function.
On Slowing Down
Or how to get to your destination before you even know it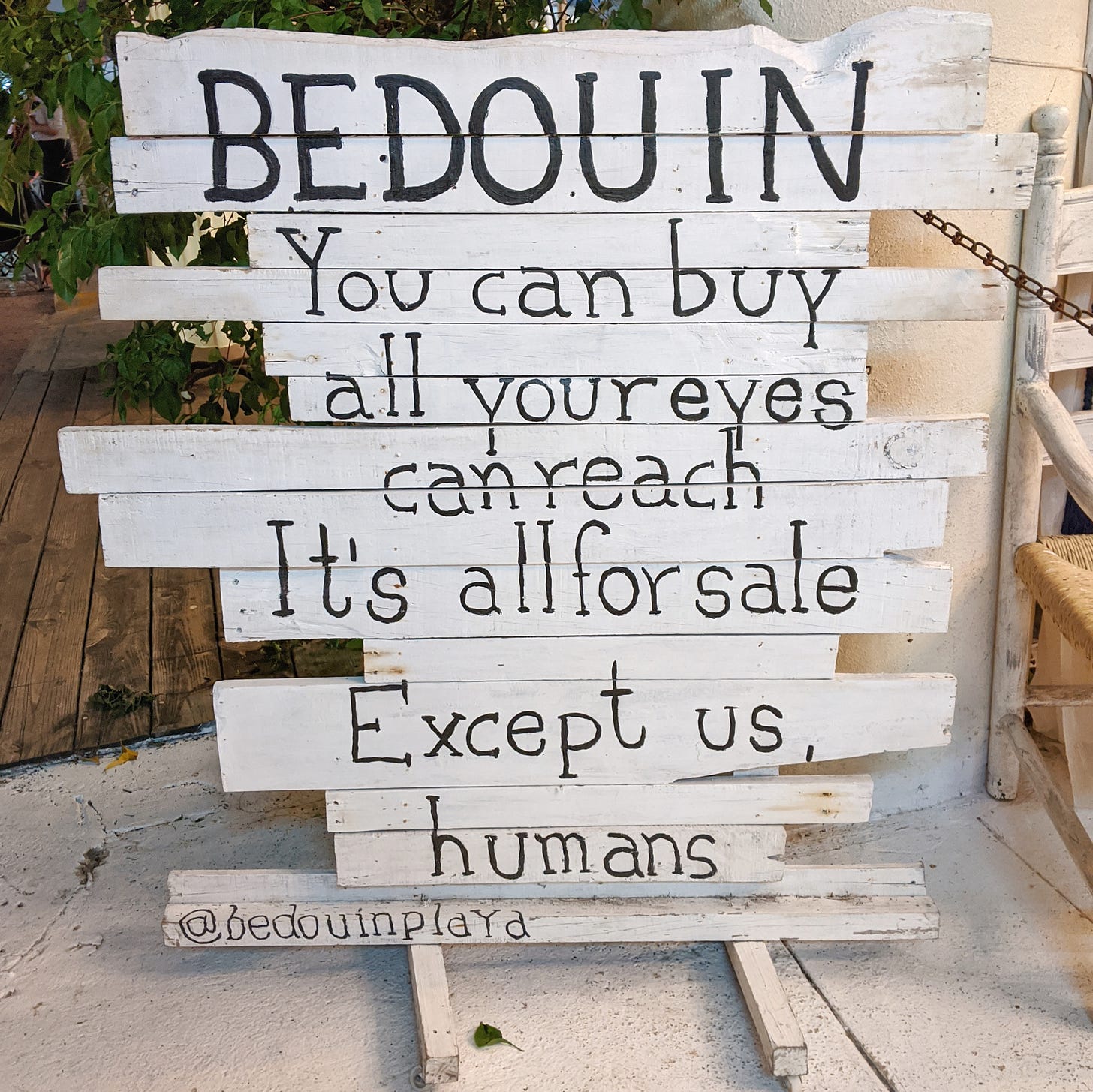 I'm late! I'm late! For a very important date! No time to say hello, goodbye! I'm late! I'm late! I'm late!
Last night as I was walking home, I did something unusual for me: I slowed down. I did it as an experiment to see what it's like to walk the same speed as everyone else (aka sooooo sloooooow). Usually I walk very fast, with a destination in mind. Point A to Point B — that's me. Doing that on the touristy Fifth Avenue here can be annoying as I'm barraged by hawkers who just won't leave me be.
But tonight was different. I'd been given a bunch of coins as change today ranging from 1 to 10 pesos ($0.05 to $0.50). I made a goal that I would give out a coin to anyone who asked. I only maybe gave out a max of $5, but rather than ignoring the buskers and hoping they'd go away, I was able to interact with them, saying "I know it's not much, but good luck."
Even with the people asking if I want to buy drugs or get a message or whatever, rather than them calling after me like "Hey, buddy! Amigo!" I was able to make eye contact, smile, and say "No thanks". And lo and behold, in return, I got a smile and a "Have a good night". I could hardly believe it.
That touristy street is entirely different at that pace and with that level of connection. Rather than it being a nuisance on my way to and from the coworking space every day, it was an immersive, unique, and very human experience.
I listened to someone play the harp in an otherwise silent restaurant. I watched some bored teenagers working in a tourist shop just killing time until their shift ended. I became enthralled by some art and spoke with the artist. I petted lots of good-dogs.
But the craziest thing was, before I knew it, I was home. Usually I'm counting down the the blocks until I can get out of the mayhem and onto my quiet side street. But this time, I was actually a little sad that it was over. It seemed like it ended too soon. I kinda wanted to keep going.
The last person I gave money to couldn't've been more than two years old. The boy's dad was playing a Spanish version of The Battlehymn of the Republic on the guitar. His mom was smiling and holding out a hat for donations. And the little boy himself was running around laughing and collecting money from people. Say what you want about the ethics of using your kid to busk, but I was smiling and whistling Battlehymn the rest of the way home.
But as if I needed one more experience as a juxtaposition, I passed a woman closing up her shop who had no fewer than four padlocks up and down the door she was securing. She looked like she spoke English, so as I passed, I jokingly said "Wow that's a lot of locks". The look she gave me was withering. I felt like I'd just made an enemy — like she straight up hated me for some reason. And in that moment I wondered if that's the face I make at all of the hundreds of people just doing their job on Fifth Avenue.
That walk was exactly what I've been needing all week. I've felt so anxious about the future — thinking of all the things I need to do, and worrying about what next month will be like. I tried and tried to get out of my head but just couldn't seem to do it until tonight; until I slowed down and melded back into the present and once again became a part of — not separate from — the people and places around me.
Sometimes I can get so intent on where I'm going that I lose sight of that saying that it's not about the destination, it's about the jorurney. I think that cliché applies at every scale, from a 30 minute walk home, to the next 30 years of my life.
I don't want to get to the end and feel like I'd just been living with a scowl on my face (also know as RBF) and counting down until it's over. I want to slow down and connect with the people and places around me. I want to be so in the moment, that when the end does come, I'll be able to say, "What, so soon?"
Remind me of that once in a while, will you?
❤️