On Floating
Or how to stop worrying about the future; accept things as they are; and ride the waves of change without drowning
Que será, será
Whatever will be, will be
The future's not ours to see
Que será, será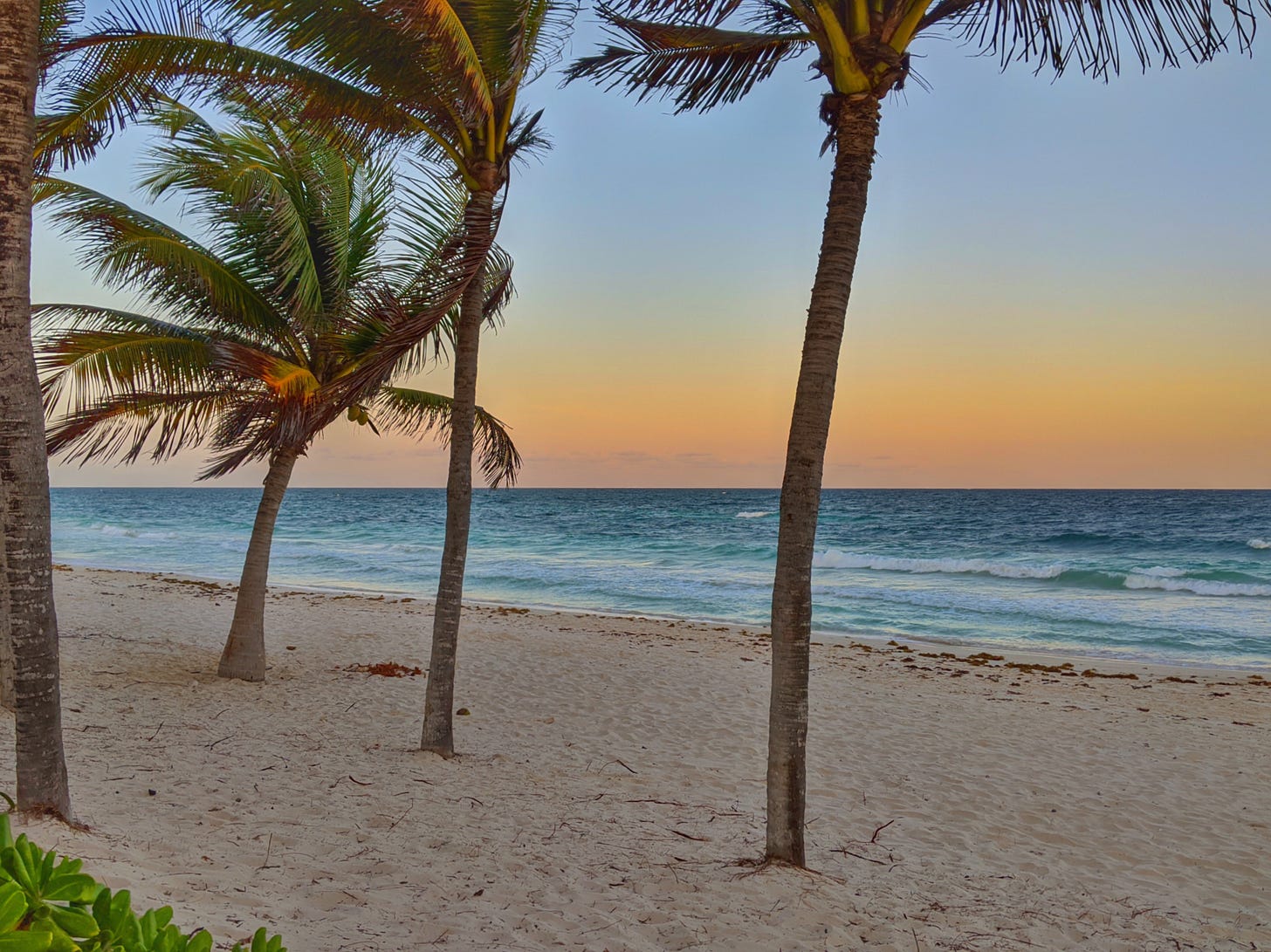 I apologize for my last post. I'm not proud of it — it definitely didn't reflect my best self. And more than that, I spread negativity in an already-stressful time. I've deleted the post online but I can't take the email back out of your inbox. So I'm sorry; I hope you will forgive me.
---
Yesterday afternoon, I moved an hour south down to Tulum, Mexico. Being here, I can't help but feel like I am seriously one of the most fortunate people in the world right now. I'm in a beautiful place with supportive friends and still have my well-paying job. This is honestly one of the most amazing periods in my life.
It's also one of the most uncertain periods.
For example: I don't know how long I will be able to stay here or if I'll have to move again next week; I don't know how long I'll have my current client or if I'll have to look for work next week; I don't know how long there will still be flights out of the country or if they'll close the border next week; I don't know how long there will still be peace here or if I will get kidnapped next week; I don't know how long I'll still be healthy or if I'll get sick next week.
See the pattern?
Life is amazing today, but I can't scry even a week into the future. I mean, I get that sometimes there are forks in the road of life that are difficult to see past — that's sort of part of the fun of it. But to have so many foundational aspects of life be so completely upended so quickly for so many people on such a global scale — it's not only difficult to predict what's next, it's been driving me downright nutty just trying.
---
Last week, an elderly Greek gentleman opened a restaurant next door to where I was living. (Talk about timing, eh?) I asked him what he thought of "things", and he used a phrase that I'd never heard before:
"Qué pase lo que tenga que pasar."
A literal translation would be "What will happen is what should happen." At first glance it seems similar to "Qué será, será" ("What will be will be"), but there's a subtle significance about how the future unfolds. It's a sentiment of accepting our situation as is because as is is how it needs to be.
---
If you've ever floated on your back in the ocean, then you know that it takes a certain frame of mind to keep from sinking — a mental lightness, if you will. As soon as you start worrying about floating, you stop floating. But if you relax, and just let go, you become a part of the ocean and ride up and over the waves rather than have them overwhelm you and — worst of all — get water up your nose.
---
All that to say, from here on out, I'm going to do my best to stop wasting energy trying to figure out what the future holds; to accept things as they are regardless of what's to come; and to relax into the waves of change rather than struggle against them. I figure these are all skills that take a lifetime of practice, but seriously — could you imagine a more perfect opportunity to learn and grow?
❤️ Conroy